What is Belltown?
Located near the edge of Karns bordering Powell, Belltown is a Master Planned, multi-generational community designed for all lifestyles. Belltown will offer diverse lot sizes accommodating a variety of different floor plans, offered across all price points. The mix of developments will include stately homes on spacious 1/2 acre lots, a variety of tailored single-family homes, neo-traditional homes with rear entry garages, master on main condominiums for 55+ living, two story townhomes, luxury apartments, and a centrally located Town Center featuring retail stores, restaurants, and other stores and shops to serve the entire Karns and Powell communities. Belltown residents will enjoy an abundance of amenities scattered throughout the property, and all of Knoxville will enjoy the 40+ acre public park that will be the focus and anchor of Belltown. We envision the public park to feature recreation fields, an expansive playground, an elaborate dog park, an extensive kayak area, a food truck park, and an amphitheater all connected by walking trails and greenspace. Belltown will not only be called to home by the residents, but Belltown will serve the entire community and be a staple of Knoxville, Tennessee.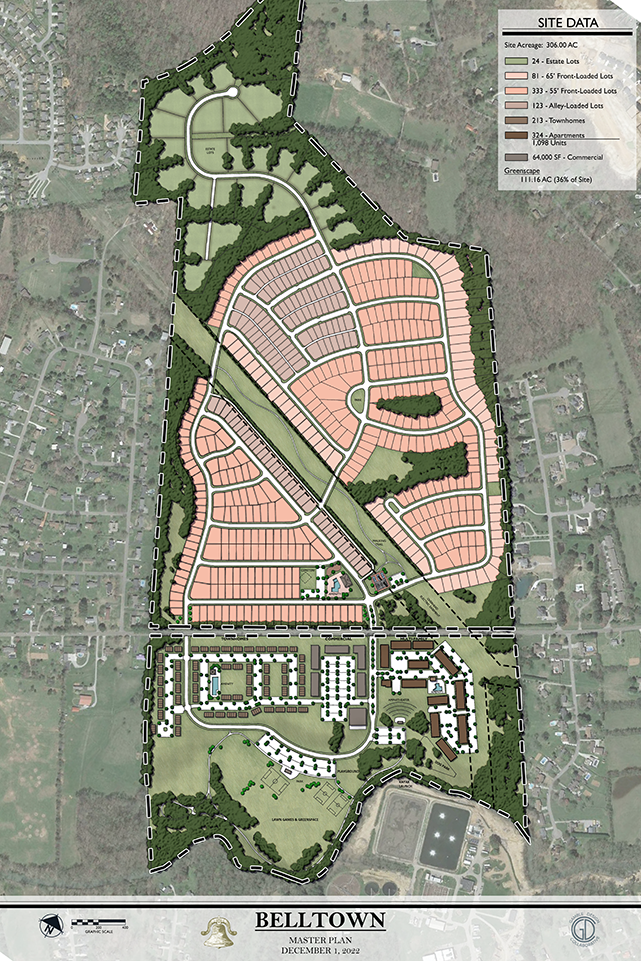 65 ft. Front-Loaded Lots
55 ft. Front-Loaded Lots
Alley-Loaded Single-Family Lots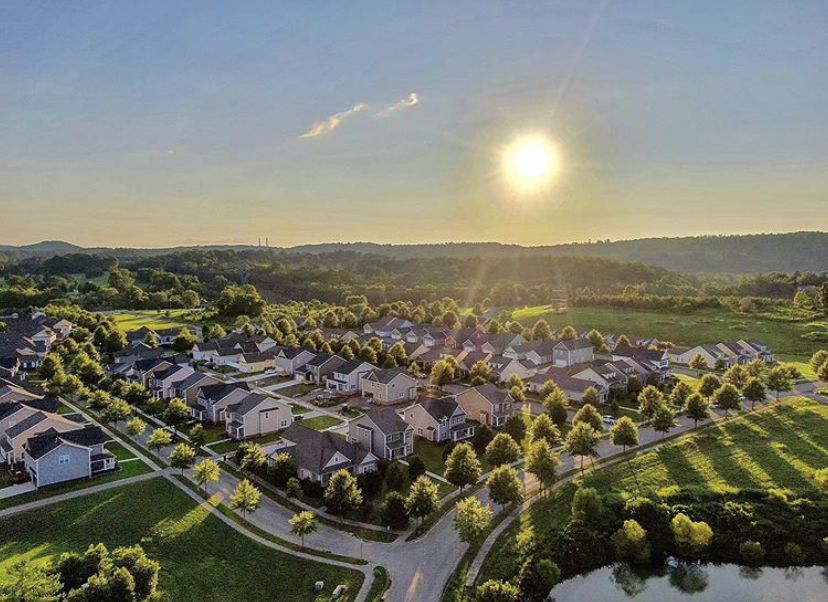 Apartments
Commercial Area
Park & Recreation Area
Our Homes
Belltown offers a diverse and extensive selection of housing options to suit every lifestyle. Embracing the timeless charm of Craftsman style architecture, Belltown presents a range of thoughtfully designed homes in various sizes and price points. Prospective homeowners will discover an array of choices to meet their individual needs, from stately residences nestled on spacious half-acre lots to tailored single-family homes that exude character and warmth. For those seeking a neo-traditional aesthetic, the community also features homes with rear entry garages, adding to the overall charm. Additionally, Belltown caters to the 55+ community with master-on-main floorplans, providing comfortable and convenient living spaces for active adults. With this wide array of home options, Belltown truly offers something for every homeowner, making it an inclusive and vibrant community.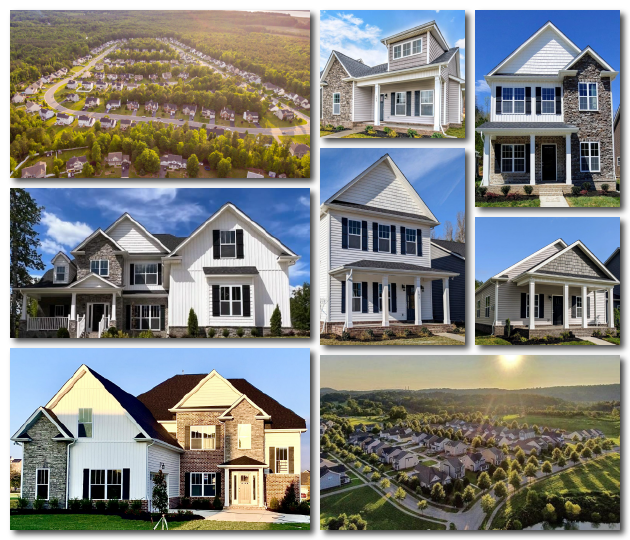 Amenities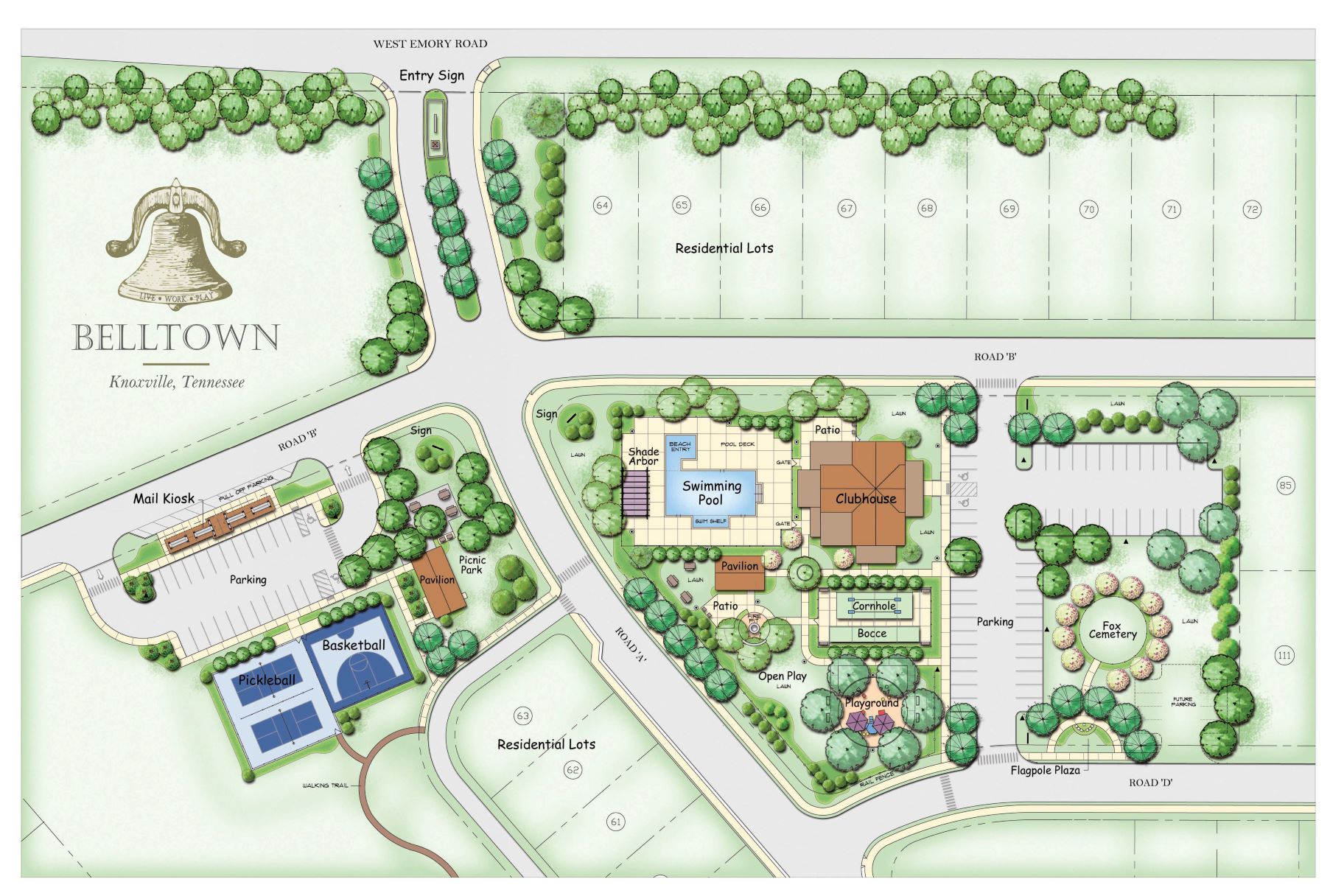 At Belltown, you'll discover a host of exclusive private amenities designed to enhance your lifestyle. Explore the winding walking trails that meander throughout the development, inviting you to embrace the beauty of nature and enjoy peaceful strolls. Engage in friendly matches and community events on the expansive sports fields, where active gatherings create lasting memories. Find serenity in the private parks, meticulously designed to provide tranquil retreats within the community. Dive into relaxation at the inviting swimming pool, a refreshing retreat where you can unwind, soak up the sun, and enjoy leisurely moments. With private amenities that cater to your every need, Belltown offers a harmonious blend of recreation, tranquility, and a sense of community.
Public Attractions
Welcome to Belltown, where an enchanting 40+ acre public park awaits, surrounded by natural beauty. Explore meandering walking trails, enjoy inviting picnic areas and a thoughtfully designed playground. Let your furry friends play in the dedicated dog park, launch your kayak on Beaver Creek, and gather for community events on the expansive sports fields. Indulge in retail therapy, savor culinary delights, and take care of your daily needs, all just steps away from the natural oasis of the public park. Immerse yourself in entertainment at the community amphitheater, where captivating performances and vibrant events bring the community together. Whether you seek tranquility, recreation, or shared experiences, Belltown offers an idyllic setting where you can immerse yourself in the beauty of nature, partake in engaging activities, and enjoy the added convenience of a vibrant community hub.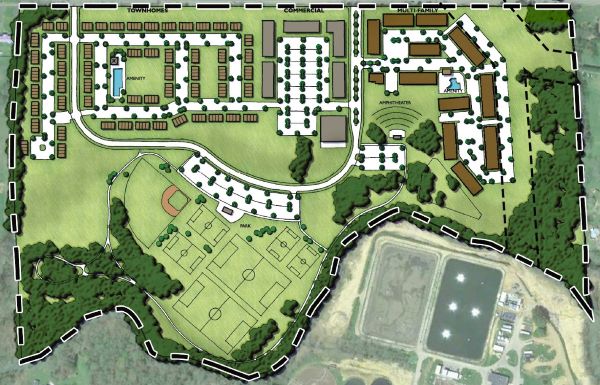 Commercial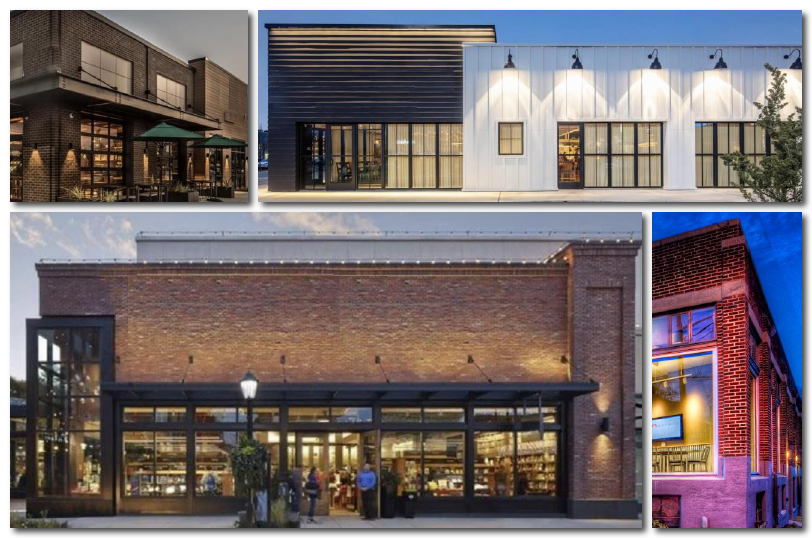 Belltown will feature a dynamic commercial area that will cater to the community. This vibrant hub will offer a diverse range of shops, restaurants, and essential services. Patrons can look forward to exploring a variety of retail stores, enjoying delicious meals at various dining establishments, and having convenient access to a variety of other services. A belltower will serve as a prominent landmark and the focal point of the commercial area, while an amphitheater will host exciting events and performances. As Belltown develops, we envision the commercial area as a bustling center, enriching the lifestyle of the surrounding community and providing essential amenities for residents and visitors alike.
---
Follow Our Journey
Belltown Introduced
June 09, 2022
A significant milestone as Knox County Planning gets introduced to Belltown, setting the stage for future developments.
---
Frequently Asked Questions
[] What will be included in the first phase?
The first phase will include approximately 60 single-family lots and the private amenities between both entrances on the north side of West Emory.
[] When can I buy a home in Belltown?
Smithbilt Homes intends to start accepting contracts in the fall of 2023 (weather permitting), with home buyers moving into Belltown in the spring of 2024.
[] What floorplans are offered in the first phase?
The first phase will feature the Inspire and Founder series floorplans, all with a Craftsman exterior.
[] What will the price of a new home in Belltown be?
Homes in phase one will start at $374,900.
[] When will larger homes/lots be available at Belltown?
Phase 2, which will open in the fall of 2024, will include lots that can accommodate Signature series floorplans and "alley loaded" Carriage floorplans.
[] Will there be a pool and amenities at Belltown?
Yes, included in the first phase is a clubhouse, pool, pavilion, playground, basketball and pickleball courts, an outdoor fireplace, and grilling areas.
[] Will there be an HOA fee at Belltown?
Yes, all homeowners will be required to pay an HOA fee. The fee has yet to be determined.
[] When will West Emory Road be improved?
Smithbilt is working with Knox County and the State of Tennessee (TDOT) to start the improvements in the fall of 2023 and complete the project in 2024 (weather permitting).
[] When will the Commercial area be developed?
Smithbilt is already communicating with potential future tenants of the commercial area and intends to break ground on the area in 2024.
[] When will the 55+ older lifestyle townhomes be available?
Smithbilt Homes intends to develop the townhome portion of Belltown in 2024 with intentions of having townhomes available in 2025.
---
---
Interested?
If you indicate you are interested in purchasing a home, this form will serve as the official waiting list.